Our Staff
Joe Jones, Head Coach/Director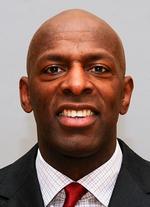 VIDEO: Coach Jones - Developing leaders on the court and in the community
All-Time Record at Boston University: 122-102 (.545), seven seasons
All-Time Conference Record at Boston University: 80-42 (.656)
2018 Reese's College All-Star Game Head Coach (West Squad)
2015-16 NBCSports.com Patriot League Coach of the Year
2013-14 Patriot League Regular Season Champions
Three Postseason Appearances: 2016 CollegeInsider.com Postseason Tournament (CIT), 2014 National Invitation Tournament (NIT), 2013 CIT
Two-time Skip Prosser Man of the Year Award finalist (2014, 2017)
With over 20 years of coaching experience, Joe Jones enters the 2019-20 season at the helm with the Boston University men's basketball team, as the Terriers look to claim their fourth postseason berth in seven years under his watchful eye.

During his tenure, he has led BU to six top-four finishes in the conference standings, including a Patriot League regular season title in 2014 and No. 2 finish in both the 2017 PL and 2013 America East schedules.

FULL BIO
Curtis Wilson, Assistant Coach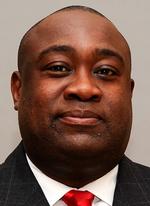 Entering his ninth season with the Terriers, Wilson joined head coach Joe Jones and his staff in July of 2011 after working at the Ivy League's Yale University for 12 seasons, including the last five as associate head coach.
During the past eight years on Commonwealth Ave., he has helped guide BU to three postseason berths, the 2016 CollegeInsider.com Postseason Tournament (CIT), the 2014 National Invitation Tournament (NIT) and the 2013 CIT.

In 2017-18, BU shot 46.2 percent from the field, the team's highest mark since 1993-94, and ranked tied-for-fifth in the NCAA with 11 players reaching double figures in points. Working with the post players, Wilson helped All-PL Third Team member Max Mahoney shoot a school record 60.1 FG%. This past year, Mahoney broke his own record with a stellar 62.9 FG% en route to All-PL Second Team accolades.

In 2016-17, the Terriers finished second in the PL standings and led a conference in defensive field goal shooting percentage (.425) for the first time since 2004-05. Despite having to use 15 different lineups as a result of injuries in 2015-16, BU averaged 73.0 points per game and shot 45.4 percent from the field, the team's highest mark since 1992-93.
The 2013-14 season proved to be a memorable one for the Terriers, as they captured their first conference regular season title since 2004 and finished with 24 wins, second most in program history. BU also clinched its second consecutive postseason appearance and hosted Big Ten member Illinois on ESPN2 at Agganis Arena to open the NIT.
With Wilson's assistance, on the defensive end, BU went 17-3 when holding opponents below 70 points and led a conference in turnover margin for the first time since 2005 at +1.91. Season highlights included holding fellow Patriot League member Navy to its lowest offensive output (32) since 1943 and earning an 83-77 road win at ACC member Maryland.
"Curtis is a tremendous coach whose experience and knowledge will be invaluable to the program," Jones said of his hiring in the summer of 2011. "He is a hard-working family man who will serve as a great role model to our players. I have known Coach Wilson for over 15 years and am thrilled to finally have the opportunity to work with him."
Working at Yale under Joe Jones' older brother, James, Wilson played a key role in the turnaround of the basketball program. In 2001-02, the Bulldogs won their first Ivy League title since 1962-63 and earned the first postseason tournament victory in the history of Yale basketball. The team won 21 games, the second most in the modern era of Yale basketball, and reached the second round of the National Invitation Tournament.
Promoted to associate head coach prior to the 2006-07 season, Wilson helped the Bulldogs record a .500 or better record in league play for nine consecutive years (2000-09), which hasn't happened at Yale since the official start of Ivy play in 1956-57. Before joining James Jones, Wilson spent five years as an assistant to Tom Brennan at Vermont and three years at his alma mater, Adelphi. In 1994, Wilson helped guide the Panthers to the Division II ECAC championship.
Graduating in 1991, Wilson remains fifth all-time on the Adelphi scoring list with 1,531 career points. A four-time basketball letterwinner and co-captain of the team for three years, he received his bachelor's degree in business administration and finance and later earned a master's degree in sports management from Adelphi in 1994. In the spring of 2001, he was inducted into the Adelphi Athletic Hall of Fame.
Wilson and his wife, Heather, have three daughters Aysia, Leigha and Tiffini.
Walt Corbean, Assistant Coach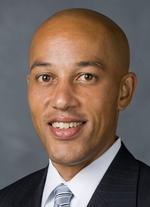 A former Wake Forest assistant and Xavier alum with two NCAA appearances as a player, Corbean returns for his sixth season with the Terriers. During his tenure, he has helped head coach Joe Jones guide BU to a second-place finish in the 2017 Patriot League regular-season standings, back-to-back PL semifinal appearances (2017, 18) and a 2016 CollegeInsider.com Postseason berth.
"We are all very excited about Walt joining our staff," said Jones in the summer of 2013. "I have known Walt for over 15 years and he brings a great deal of experience to our staff. You add in his character, work ethic and knowledge, and we have someone who I believe will make a significant impact on and off the court."
Corbean worked on the Wake Forest staff from 2007-13, including the last two as an assistant coach. He joined the Demon Deacons as the director of basketball operations after serving as the head basketball coach at Indiana University Southeast in New Albany, Ind. In seven seasons, Corbean led the Grenadiers to a 140-95 record and three National Association of Intercollegiate Athletic (NAIA) National Tournament appearances.
He also captured four Kentucky Intercollegiate Athletic Conference championships. His most successful season came in 2005-06 when IUS finished ninth in the nation in the final NAIA Division II poll with a record of 30-4.
Corbean began his coaching career at his high school alma mater, The Seven Hills School, in Cincinnati. He was an assistant varsity coach and head junior varsity coach for four seasons before earning his degree in psychology from Xavier in 1991.
The former Musketeer then broke into the collegiate coaching ranks as an assistant coach at Northern Kentucky University. He spent four seasons as an assistant at NKU, the last two of which he also served as academic coordinator. Corbean was instrumental in helping the Norsemen reach the Sweet 16 of the 1995 NCAA Division II Tournament.
Making his return to the Patriot League at BU, he joined the staff at Army in 1995 and spent three years with the Black Knights, including one season as the recruiting coordinator. Corbean then became an assistant coach at Eastern Kentucky for two seasons from 1998-2000 before taking the head job at IUS.
As a Musketeer from 1985-87, Corbean helped Xavier to a pair of Midwestern Collegiate Conference championships and a two-year record of 44-18. After earning his bachelor's from Xavier, Corbean received his master's degree in secondary education from Northern Kentucky in 1997.
Corbean and his wife, Kathy, are the parents of a son, T.J.
Mike Quinn, Assistant Coach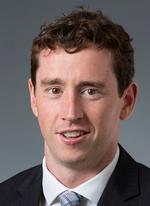 Mike Quinn is entering his second season with the Boston University men's basketball staff as an assistant coach after spending the previous two years as an assistant at Dartmouth. He previously served as the director of basketball operations at two Atlantic-10 institutions — Fordham in 2014-15 and George Mason the following year.

As the director of operations for the Rams and Patriots, he saw to a myriad of tasks behind the scenes, including film exchange, game preparation and travel arrangements for the teams, as well as overseeing the student managers and the academic support programs.

Prior to making the jump to Division I, he worked as an assistant at Stonehill College (DII) from 2011-14. In his first season with the Skyhawks, he helped guide them to a Northeast-10 tournament title before the squad won the East Regional to advance to the NCAA Division II Final Four. Among his duties were coordinating the recruitment of student-athletes, scouting opponents and overseeing the strength and conditioning program.

A 2010 graduate of Bentley University with a degree in finance, Quinn stayed on for another year to earn a master's in financial planning. As a member of the Falcons' basketball team, he set school records for games started and minutes played in a career while helping lead the team to three NE-10 regular-season championships, one NE-10 tournament title and two Division II Final Four appearances.
Felix Abongo, Director of Basketball Operations